The Nagoya seminar in December was cancelled but instead Sensei will be teaching a seminar in Bratislava, Slovakia.
You are able to register and get information through the facebook event at the Kurilla Budokan. This year is the 25th Anniversary of this big school, so do miss this important event and koshukai.
Sensei will be hosted by master Stefan Kurilla, 6th Dan Iwama Shin Shin Aikishurenkai.
We have more news for this seminar in Bratislava!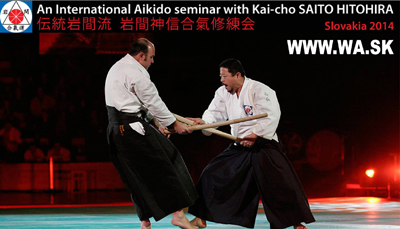 SCHEDULE: 
Friday, 12. 12. 2014 18.00 – 21.00 registration
Saturday, 13. 12. 2014
7.00 – 7.45 registration
8.00 – 9.15 taijutsu
9.30 – 10.45 taijutsu
10.50 foto
15.00 – 16.00 special keiko
16.15 – 17.30 buki-waza
17.45 – 19.00 buki-waza
20.00 party
Sunday, 14. 12. 2014
7.00 – 8.15 buki-waza
8.30 – 9.45 buki-waza
14.00 – 15.15 taijutsu
15.30 – 16.45 taijutsu
LOCATION:
Nábrežie arm. gen. L. Svobodu č. 9
814 69 Bratislava, Slovakia
(Fakulta telesnej výchovy a športu)
For more information, please check out this website: http://www.aiki.sk/aikidemo/index.php?lang=sk&menuid=291
Please share this event, or join, at: INTERNATIONAL KOSHUKAI BRATISLAVA