Our Jukucho, visited Uruguay to teach a seminar in Montevideo, the capital of this beautiful country.

Saito Sensei with the teachers of Iwama Shin Shin Aikishurenkai Latin America & Caribe Kyokai
Hitohira Saito Jukucho was invited by Mario Silva sensei and Uruguay Aikishurenkai. In the first day Mr Mario took Sensei and entourage to visit the country side of Uruguay where he was treated to a traditional asado.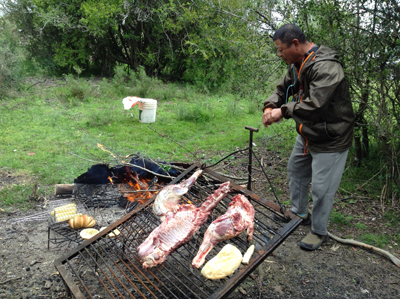 Sensei helping with the traditional Uruguayan Asado.
The seminar started on friday 16 of October, with a fantastic keiko where Sensei taught in minute detail the wonders of hanmi and of ken suburi. It was indeed a valuable class which all enjoyed and awed.

Students listening to Sensei before keiko.
Saturday and Sunday were heavy days with lots of keiko of aikiken, aikido and taijutsu. Special attention was given to shiho nage and irimi nage, two pillars of Aikido Taijutsu.
On the last, since it was a beautiful sunny day, Sensei taught outside in the garden the kumijo from 1 to 4 with many interesting and awesome variations.
We have to mention the special keiko that sensei gave for a few selected practitioners, of Aikinogi nukisashi. Sensei explained that in O'Sensei's aikido all techniques were related: ken, jo and taijutsu. As such the nukisashi of Iwama Shin Shin is 100% related to all taijutsu techniques and aikiken techniques too. Indeed, the practice of these forms will develop our ability and dexterity in taijtusu.
Training in front of the huge La Plata River.
On saturday, Uruguay Aikishurenkai treated us to a very special party at a fantastic restaurant were we ate traditional Uruguayan food and beer and wine. It was a surprise when suddenly one of Mario sensei's students stared to sing opera, accompanied with two of his friends. Was quite fantastic and enjoyable. All people were indeed very happy with this event! Thank you very much Mario Silva and Uruguay Aikishurendojo.
Saito Jukucho and Mario Silva Sensei of Uruguay.