[:en]
It was a great honor for Carsten Oetzel and his Aikido students of the Budo Shuren Dojo, as two years before Hitohira Saito Sensei accepted the invitation to hold one of his international Aikido seminars in December 2015 in Augsburg.
Over 170 Iwama Ryu students coming from 17 different nations from all over the globe joined the Augsburg Aikido group to meet Saito Sensei in person and follow his teachings.
Alongside of students from other Aikido branches who were eager to experience the master from Japan themselves, some longterm Saito Sensei students even took the long journey from Algeria, Iran or the United State of America to be part of this event.
In the three days of Seminar all participants had the chance to practice, learn, (re- )connect, get together and meet old and new friends while training their Aikido under the very strict and patient eye of Sensei Hitohira Saito.
He demonstrated a great variety of techniques throughout the 8 Keikos which were evenly spread over the weekend, traditionally beginning with the Aiki-Ken (Japanese sword) on Friday night moving on to Aiki-Jo (Japanese stick) and Tai-Jutsu (no-weapon techniques) on Saturday and Sunday.
On Saturday afternoon the attendees were given the rare occasion to observe three San- Dan exams. Those students proved to be quite well prepared and very precise in their techniques and so passed their test to the next dan grade.
On the last day it was time for the little ones to show what they had learned. The kids of the Budo Shuren Dojo Augsburg – aging from 8 to 14 – moved comfortably on the mat between the adults and surprised and impressed sensei Hitohira Saito Sensei with their dedication and pleasure doing Aikido.
The traditional Saturday-Night-Party deserves a special mention.
Organized by the whole team of the Budo Shuren Dojo Augsburg the seminar participants were invited to celebrate their coming together on a proper Bavarian feast, with delicious suckling pig and refreshingly tasty draft beer.
Looking forward to the next seminar, Carsten Oetzel and his Budo Shuren Dojo Augsburg students had a wonderful time and appreciate all the people who joined and made this event such a joy and wonderful experience for everybody.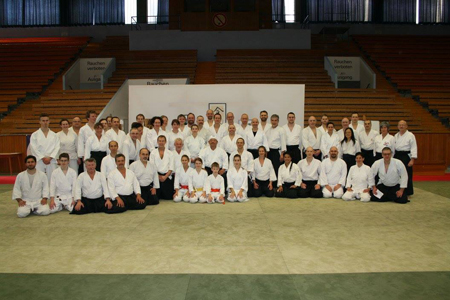 [:ja]It was a great honour for Carsten Oetzel and his Aikido students of the Budo Shuren Dojo, as two years before Hitohira Saito Sensei accepted the invitation to hold one of his international Aikido seminars in December 2015 in Augsburg.
Over 170 Iwama Ryu students coming from 17 different nations from all over the globe joined the Augsburg Aikido group to meet Saito Sensei in person and follow his teachings.
Alongside of students from other Aikido branches who were eager to experience the master from Japan themselves, some longterm Saito Sensei students even took the long journey from Algeria, Iran or the United State of America to be part of this event.
In the three days of Seminar all participants had the chance to practise, learn, (re- )connect, get together and meet old and new friends while training their Aikido under the very strict and patient eye of Sensei Hitohira Saito.
He demonstrated a great varitey of techniques throughout the 8 Keikos which were evenly spread over the weekend, traditionally beginning with the Aiki-Ken (Japanese sword) on Friday night moving on to Aiki-Jo (Japanese stick) and Tai-Jutsu (no-wapon techniques) on Saturday and Sunday.
On Saturday afternoon the attendees were given the rare occasion to observe three San- Dan exams. Those students proved to be quite well prepared and very precise in their techniques and so passed their test to the next dan grade.
On the last day it was time for the little ones to show what they had learned. The kids of the Budo Shuren Dojo Augsburg – aging from 8 to 14 – moved comfortably on the mat between the adults and suprised and impressed sensei Hitohira Saito with their dedication and pleasure doing Aikido.
The traditional Saturday-Night-Party deserves a special mention.
Organised by the whole team of the Budo Shuren Dojo Augsburg the seminar participants were invited to celebrate their coming together on a proper Bavarian feast, with delicious suckling pig and refreshingly tasty draft beer.
Looking forward to the next seminar, Carsten Oetzel and his Budo Shuren Dojo Augsburg students had a wonderful time and appreciate all the people who joined and made this event such a joy and wonderful experience for everybody.[:]