From the 12th to the 14th of October, Saito Shihan directed a seminar in Montevideo, Uruguay.
This modern city of South America, is seeing an amazing development of Iwama Shin Shin Aikido thanks to the work of Mr. Mario Silva, student of late Great Master Morihiro Saito and of his successor, Hitohira Saito Shihan. Mario Sensei leads the big group of Montevideo Aikishurendojo and teaches all over Uruguay too. Mario Sensei also teaches seminars all over South America, helping to spread Iwama Aikido in this enormous region of the planet.
Sensei came directly from the Italy seminar in Sicily (see description of Sensei's seminar in Italy), to Montevideo, traveling a full day. One day upon arriving, Sensei travelled to the deep countryside of Uruguay to visit a traditional gaucho farm where he enjoyed the day in the company of the local people and of his students of Argentina and Uruguay.
On the 12th Sensei started teaching the seminar in the traditional manner, with Aikiken. These teaching were done in an extremely detailed way which was very easy and logical for all the students present to follow.
Ikkyo, nikyo, shiho nage and irimi nage, were some of the techniques that Sensei taught in the taijutsu classes, also with great detail and care. Both the very young practitioners as well as the very old present on the tatami, quickly grasped Sensei's teachings and executed the techniques very well.
The practice of Aikijo was done mostly at the end of the seminar in the open air, near the fantastic river of La Plata that bathes the beautiful city of Montevideo.
During the seminar there was also a great party where the traditional music of candombe – recognized by the UNESCO as Intangible Cultural Heritage of Humanity – was played with lots of beautiful dancers dressed in the traditional costumes for this dance. Many people joined these dancers, especially the Brazilians largely known for their natural happy mood.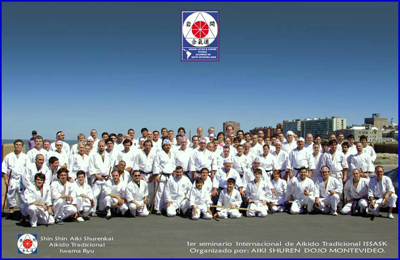 This seminar was attended by lots of practitioners belonging to the Iwama Shin Shin Aikishurenkai Latin America and Caribe Kyoukai, a large organization that belongs to the Iwama Shin Shin Aikishurenkai and holds all of these friendly Spanish and Portuguese speaking countries.
It was really enjoyable to train with so many people from so many different countries and traditions. Most of the practitioners were of course practitioners of Dento Iwama Ryu Aikido but we also had the pleasure of training with many other very nice people from others styles.
Uruguay, Argentina, Chile, Peru, Brazil, Panamá, Venzuela, Dominican Republic, United States, Spain and Portugal were represented in this seminar and all were very thankful to Saito Sensei for having come from so far away to the "end of the world" to teach in South America.
We would also like to thank the organization of the Silva brothers helped by their friends from Tucumán (Esteban Hamada), from La Plata (Sergio Bengoa) from Buenos Aires (Andrés Bellini), from from Santo Domingo (Alberto Villarroel) and from Viña del Mar (Fernando Delgado) among others. It was a great job! Mr. Mario's student and friend Gustavo Olivera was also very busy during the whole seminar as were many others of his students and friends from all the above countries.
It was a truly friendly seminar and everyone was delighted!