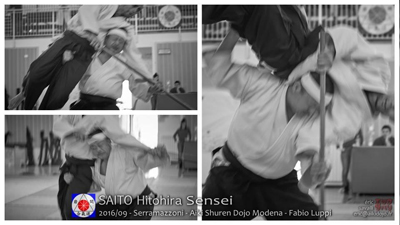 On the 21st of September, Sensei arrived Wednesday evening, at 10:10 pm at Bologna Airport. Waiting for Him there were 3 persons: Fabio Luppi, the host, Alice, his daughter and Alessandro Tittarelli.
In one hour and half we got to Serramazzoni (MO), a nice Town, 800 meters height in the Apennines Modenese.
We checked in at "Scuola Alberghiera e di Ristorazione di Serramazzoni"(http://www.srsr.it ), school famous throughout Italy for the excellent training of personnel Hospitality: Food and first class service.
22 September 2016:
Thursday morning, Fabio Luppi, Sensei and Alessandro Tittarelli, visited a big shopping center of Modena, the Grand Emilia (http://www.grandemilia.it/ita/negozi/) where Sensei was able to see and even buy some local specialties. Lunch was at the Serramazzoni School. After lunch we relaxed, walked through the village and visit the Municipal Gym where the preparation for the koshukai [placing of the Tatami and the "Shomen"] was taking place. At around 6 pm teachers from Switzerland and Germany joined the group and we went for dinner at a local restaurant (Antica Trattoria Cacciatori)to eat venison (tortellini in broth, pappardelle, deer, wild boar etc … ).
23 September 2016
On Friday morning after breakfast the group went to visit a farm about 20 kilometers from Serramazzoni, in the land of Pavullo nel Frignano, where the owners (former students of hotel school) have built the 'Agriturismo Casa Minelli (http://www.agriturismocasaminelli.it). Here Sensei, himself a farmer too, could see how the local Bio flour of ancient grains is produced also and especially how to produce balsamic vinegar older than 50 years.
Lunch was at the School in Serramazzoni.
We were ready for the koshukai!
About 100 people joined the koshukai and they came from the USA, UK, France, Macedonia, Romania, Germany, Switzerland, Iran, Slovakia and Italy. Some important teachers also attended the koshukai such as Alessandro Tittarelli, (8th Dan), Alberto Boglio (6th Dan), Stephan Kurilla (6th Dan) and Akimasa Watanabe (6th Dan).
The training was fantastic and everybody simply loved it: Tachi Dori, Tanken Dori, Taijutsu (Kote Gaeshi, Irimi Nage…), Jo Dori, Jo Kata, Kumi Jo, Kumi Tachi and Kumi Tachi no Henka. The "Special Keiko" was on Nikyo and Sankyo Henka but also Kaeshi Waza from Nikyo (Sankyo and Ago Oshi) and Shiho Nage (Sutemi Waza).
A lot to study now that we are back home!!!
At the end of the koshukai, Francesca, Tittarelli sensei's daughter, who is like a member of the Saito family, visited Sensei with her son Melquiades and husband Alain. Danilo di Teodoro, an old timer from Italy was with them. It was a wonderful family reunion during lunch time, on Sunday.
Sensei departed on monday morning back to Japan, where he arrived safely.

Sensei, 
thank you very much for Your patience and teaching! It was a superb koshukai!
Thanks so much for the organization, the host Fabio Luppi with his students, and to Tittarelli shihan who is always on the back of every koshukai making it run smoothly.
Also thanks to the photographers Eric Savalli, Thomas Podzelny and Mirca Mazzavillani.