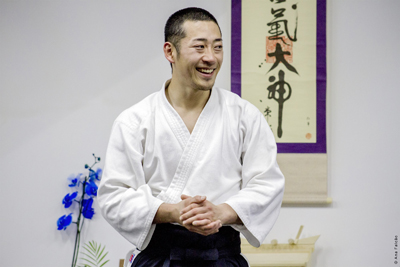 We were honored to receive Mitsuyoshi Saito Sensei in Brazil for his first international seminar.
He arrived in São Paulo International Airport on March 29th 2016, a Wednesday, morning with Tristão da Cunha Shihan, who was kind enough to accept our invitation to come and help us receiving Mitsuyoshi Sensei.
We stayed on an apartment near Av. Paulista, a well-known post-card in São Paulo, together with Mario Silva Shihan and José Silva from Uruguay. My wife Ana was also with us all the time taking pictures.
After a small rest, we went out to visit "Liberdade", São Paulo city's Japanese Town and we had a traditional Feijoada for lunch.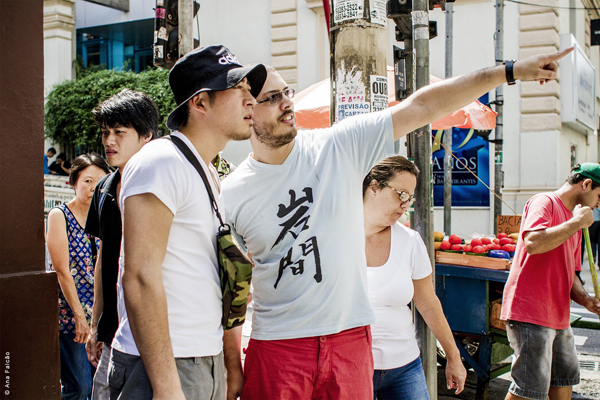 On the evening, we went to Ibirapuera Park and also had a guided visit to the Japanese Pavilion, a Japanese-Style house built in Japan on the 1950's and brought to Brazil by boat to host a small museum, inside Ibirapuera Park, by the lake.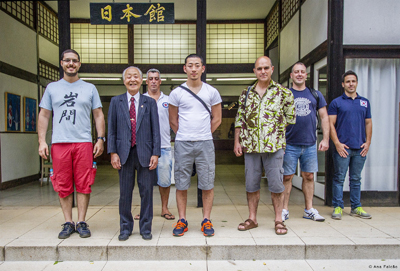 At night we had Dinner on a restaurant with traditional food from Minas Gerais' State and had a few Caipirinhas!
On Thursday, March 31st, we walked through Av. Paulista and had lunch on a Brazilian Steakhouse, and then we went to rest and prepare for a small Iwama Shin Shin EMBU at the Japanese Pavilion, supported by São Paulo's Bunkyo Kai. It was a very special evening. It was such an honor to host an EMBU with Mitsuyoshi Sensei, Tristão da Cunha Shihan, Mario Silva Shihan, José Silva and Brazilian Deshi on Morihiro Saito Sensei's 88th birthday on this traditional Japanese place.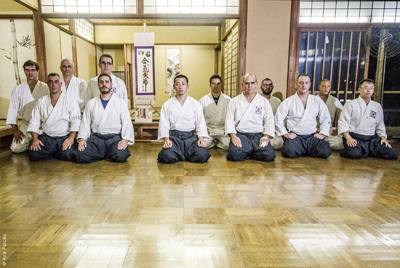 On the next morning we went to Ribeirão Preto for the Seminar! The town is located on the heart of São Paulo State and 320km far from it's capital. Iwama Shin Shin Aiki Shuren Kai Brazil's Hombu Dojo is located there. It was a pleasant drive.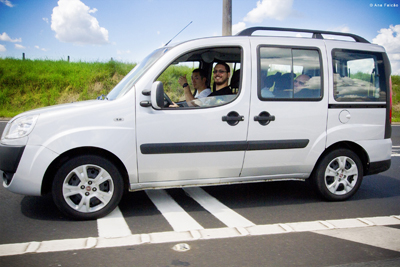 We arrived on the Summer Chalet and as it was very hot we relaxed a little on the swimming pool before the Seminar.
Mitsuyoshi Saito's First International Seminar started on the evening of April 1st, 2016. We had 8 keikos of 1h15 until Sunday morning. Almost 50 people attended, from Brazil, Chile, Dominican Republic, Portugal, and Uruguay. Also deshi from the 4 Brazilian Dojos were there. There were students from other schools as well, such as Shimbu-kan (Aikikai Ribeirão Preto) and Takemusu Aikido Kai.
We were all amazed by Mitsuyoshi Sensei's technique, power and teachings. Everybody felt that Mitsuyoshi Sensei was explaining at their own aikido level. What happened is that he taught a very basic seminar only with kihon techniques, so the beginners were able to understand. Yet the level of details was so high that even the most graduated masters found it very interesting.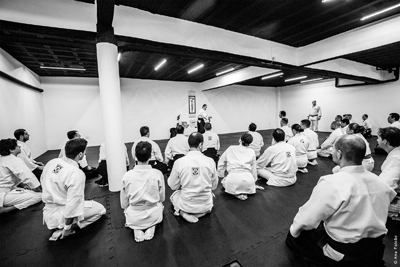 In the dojo Mitsuyoshi Sensei gave tai-jutsu class. We also had buki-waza classes in the "Raya Park" nearby. The techniques were:
TAI-JUTSU:
Tai no henko kihon and Ki no nagare;
Morotedori kokyu ho, ryotedori kokyu ho, ryokatadori kokyu ho, ryokatadori kokyu nage;
Ikkyo omote & ura;
Nikkyo omote & ura;
Shihonage omote & ura;
Katatedori Iriminage jodan, gedan & chudan;
Morotedori Henka grabbing strongly, twisting the arm, pulling upwards like yonkyo, pulling downwards, henka holding the hand;
Ryotedori kokyu nage;
Swariwaza kokyu ho.
BUKI-WAZA:
Ken no suburi 1~7;
Go no awase;
Happo giri, Happo giri ni, Happo giri roku & Happo giri nana;
Ichi no tachi.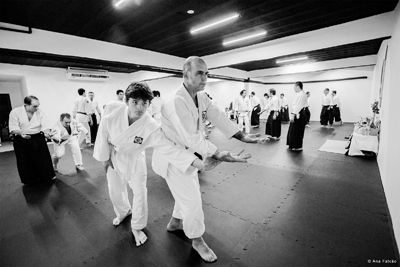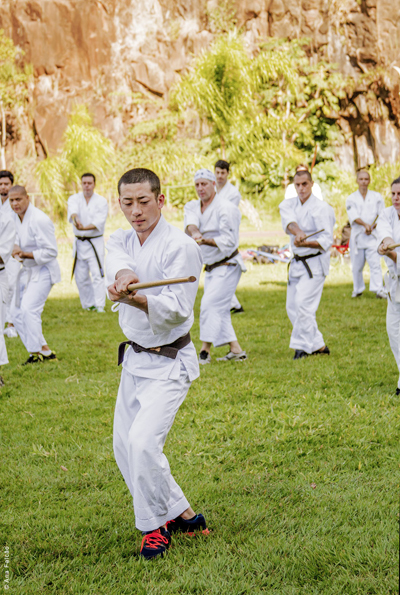 On Saturday evening, we offered a dinner party in the Dojo for Mitsuyoshi Saito Sensei.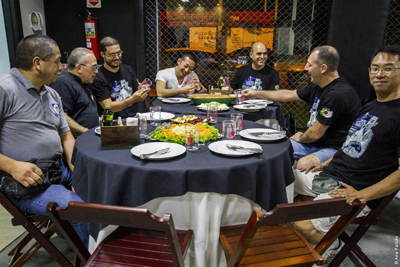 Mitsuyoshi Saito's First International Seminar ended on Sunday, April 3rd, 2016 with a Brazilian Barbecue on the Summer Chalet.
We went to bed early because Mitsuyoshi Sensei had to take a plane early in the morning to São Paulo and then to Uruguay.
I have no words to express my gratitude to Mitsuyoshi Sensei and I feel that I can speak for all Brazilian Deshi. DOMO ARIGATOU GOZAIMASHITA!!!!
Special thanks to Tristão da Cunha Shihan, always guiding and orienting us. Thanks to Mario Silva Shihan, ISSASK Latam's Senpai, for his support. He and José Silva (Brazil's Dai Sempai) brought an appreciable delegation from Uruguay. Thanks to Fernando Delgado Sensei and our friends that came from Chile. Thanks to Alberto Villarroel and congratulations for your Yon-Dan!!! Thanks to Alvaro Carvalhaes (Rio de Janeiro), Claudio Hirayama (São Bernardo) for your support and for the students that came. Thanks to Sensei Neto and your students for your presence. Thank you very much Kadu Moreira and Ana Falcão who worked tirelessly to help us make this happen. Also thanks to MixVerde Restaurant, Mauro, Aline, D. Norma and team for keeping us well fed. Thanks a lot to Team Nogueira Ribeirão Preto for your support to our school in Brazil. Thanks a lot for everybody that came and supported this seminar!
Vinicius Cruz Camargo
ISSASK Brasil