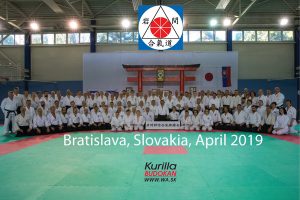 With the utmost pleasure we would like to inform you that the highest authority of traditional Aikido in the world, Iwama Shinshin Aiki Juku Jukucho Hitohira Saito, paid a visit to Bratislava, Slovakia in April. He had been invited by Shihan Stefan Kurilla on the occasion of the 30th anniversary of the Kurilla Budokan Club.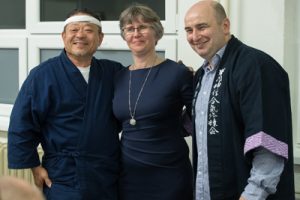 The event started on the premises of Shihan Kurilla´s Private Specialized School For Security And Protection Of Persons and Property on 5th April. Its highly-esteemed guests included His Excellency JunShimmi, Ambassador Extraordinary and Plenipotentiary of Japan in the Slovak Republic – and Saito Sensei himself. Both instructors of Kurilla Budokan and students of the school gave a greatly appreciated demonstration of Aikido and other martial arts and received rewards afterwards.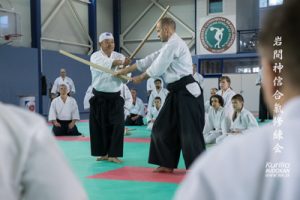 Subsequently, on 6th – 7th April, Saito Sensei led an international seminar in Bratislava with over 100 eager participants from all over the globe. All the aikidoka present had, one more time, an excellent opportunity to experience Aikido in its genuine, unmodified and pristine form. They practiced with one another and learnt both basic foundations and intriguing details of this unique martial art – from the most reliable source available.
Furthermore, Saito Sensei and his students could get a feel for the local Slovak culture, too. A dinner party and reception, widely attended, offered not only substantial food and drink but also a riveting program encompassing folk dances, songs and photography entertainment for the young and old alike.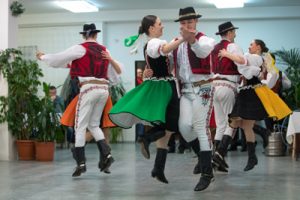 All in all, Saito Sensei visiting Slovakia has been an amazing and stimulating event for all parties involved and we do hope he honors us with his presence again in the future.
Thank you!
Article by:Mgr. Juraj Gerbel
At Kurilla Budokan  (facebook) you can view the video of this event, too.
Photographs: Here