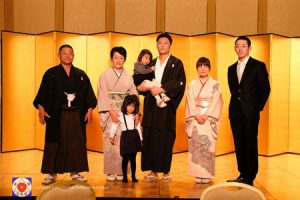 On Sunday, March 31, the birthday of the Great Morihiro Saito Sensei, became another important day of celebration for the Saito family.
On this day, Mr. Yasuhiro Saito, son of Hitohira Saito Sensei and grandson of Morihiro Saito Sensei celebrated his rightful passage as the heir apparent to the next generation as he succeeded to the name of Morihiro Saito Nidaime, 2nd generation. This celebration took place at one of the most famous landmarks in Japan, the Meiji Jingū, aka Meiji Shrine 明治神宮, in Tokyo. This shrine is dedicated to the deity of Emperor Meiji, which is  dedicated to the deified spirits of Emperor Meiji and his consort, Empress Shoken, which proved to be the perfect setting for this historic event.
The celebration was no less than incredible. The day started when we left Tanren Kan at 8:00am with two bus loads of so many generations of friends. Upon arrival at the shrine we all toured the beautifully maintained grounds, met and greeted so many people before being seated and settled at our tables. It was such a pleasure to see so many old senpai and familiar faces from the days of Morihiro Saito Shihan come to honor Waka Sensei. Approximately 200+ people came to celebrate this wonderful occasion including The Mayor of Kasama, Shigemi Shihan, Sano San, Suzuki San, Gaku Homma, Otsuki san, Takamura san, Okosh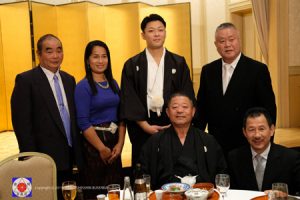 i Shihan, Toyoda San, representatives from the USA, France, Slovakia, Czechoslovakia, Canada, Taiwan, and Russia to name a few. As the time passed, we observed a short demonstration by Yasuhiro and Mitsuoshi Saito, we laughed and cried listening to speech after speech as well as watching a heartwarming presentation honoring the Saito family and Morihiro Saito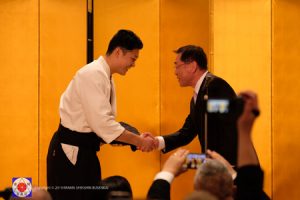 Nidaime entitled Past-Present-Future. This all took place while we feasted on the impeccably presented 13 course dinner.
By mid afternoon we were all back on the bus and heading back to Iwama to the Shin Dojo to further celebrate with around 45 old students, new students, friends and family. Until the late hours there was so much food, drink, laughter and fun. It was warm and intimate, it was as it should be.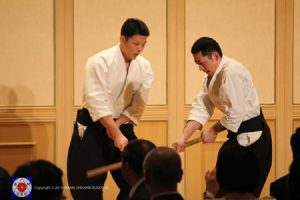 We are fortunate and grateful to be a part of the Iwama Shin Shin Aiki Shuren Kai family and very honored and proud be a part of Morihiro Saito Sensei's Legacy. We anticipate and look forward to a bright, prosperous future.
Article by Stephanie Yap with the assistance of Kenny Sembokya
For more photographs, please refer to the Iwama Shin Shin Aiki Shuren-kai Tokyo (Busenkai)
Speech by Hitohira Saito Kaicho
Hello Everyone. Good afternoon.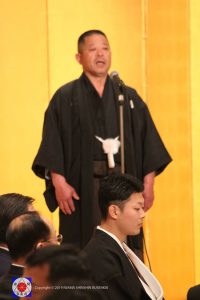 Thank you for gathering together in this wonderful place. I appreciate all the people that spent two to three nights to get here by bus, and also the people who arrived early this morning from so far way. I am very humbled by all of your efforts to be here and thank you from the bottom of my heart. O-sensei said that in the book " ichido Naritachi by Kojiki" it mentions " Ichirei Shikon". Ichirei Shikon has four expressions of a human's heart. The first is Aramitama – Courage; The second is Nigimitama – Befriending; The third is Sachitama -Willingness to Love and Grow; And the forth being Kushimitama – Spirit of Inquiry- Such is the way our hearts must be the most in Aikido. However, if we use Aramitama (courage ) being brave with respect and wisdom, we will still question ourselves and may still create doubt, friction, or a fight. Even if you are brave, it can be a battle. Our spirit and hearts should follow this way, it's important for Aikido. It's our way.
We have the name Morihiro Saito which we received from Morihei Ueshiba-sensei. My father spent his life devoted to serving Morihei Ueshiba -sensei. After O-sensei past-way, he took care of the Aiki Dojo, the maintenance and cleaning of the Aiki Shrine, and the administration for everything. My father dedicated his life to Morihei Ueshiba -sensei. Also, we can't forget about all the work of my Mother, achieved by the assistance of many senior ( Senpai ) students, Junior( Kouhai ) students, Deshi and a lot of people who supported Morihiro Saito sensei.
Now, I am over 60 years the old. My knees are not in great condition right now. I could not think about myself becoming 2nd generation of Morihiro Saito, but I want keep Morihiro's name which we received it from Morihei Ueshiba -sensei. It is my only wish. However, after my death, I want to my son to inherit the responsibilities as the leader of Iwama Shin Shin Aiki Shurenkai. I only wish Morihiro's name will continue to stay with us in the future. I told Yasuhiro to assume Morihiro's name as the leader of Iwama Shin Shin Aiki Shurenkai. It's very important. Today, so many people gathered here because we all have a special relationship with Ueshiba-sensei and my father Morihiro Saito. We are very appreciate and sincerely thank you for attending today's naming ceremony. Also, to the representatives who work with the Government, I would like to express my sincere gratitude for taking the time to attend this event, as it is a busy time for you. I truly appreciate your efforts. Thank you very much.
I want to keep talking about my feelings, but I will stop now. I will come to you after my speech then tell you thank you to you one by one, personally at your table. Today, we have limited time, but I want to keep our relationship growing in the future. Thank you so much to you all for taking the time during year-end to be with us. Also, especially it being Sunday. I am very appreciative for the time you all created for us. I don't have anything for you, I just have my heart to thank you. Please understand my sincerity and how much I appreciate your visit.
_____________________________________________
Speech by Waka Sensei, Morihiro Saito Nidaime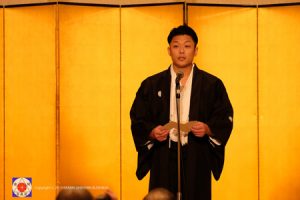 Thank you all for attending my naming ceremony today. Also, I would also sincerely like to thank the many people that attended in support of this naming ceremony. I am Yasuhiro Saito of Iwama Shin Shin Aiki Shurenkai. I am honored to have received this name and will be honored to use second generation Morihiro Saito from now on. I sincerely appreciate this ceremony and am overwhelmed by the support from all members of Iwama Shin Shin Aiki Shurenkai and people gathered today.
Before I received name of my grandfather today, I have had lot of impressions and recollections of my grandfather's personality, of his very distinguished personality. I have enormous reasons as to why I accepted to take on the responsibility to use Morihiro Saito's name. In essence, I was influenced by two people who passed away last year. The first person established much trust from Morihiro Saito Sensei, and who also had the trust of my father as well. He greatly supported me, just as my father always has. I felt I had the two fathers at the time. One more person. This other person encouraged me and supported me when I was overseas; he was always encouraging and always calmed my anxious feelings. This person sacrificed much of his time and effort to help spread Iwama Shin Shin Aikido's name, techniques and philosophy to the world. The existence of these two people, their encouraging words, their determination were instrumental in deciding to undertake the responsibilities of the position and the title Second generation of Morihiro Saito as leader of Iwama Shin Shin Aiki Shurenkai.
Translation by Stephanie Yap and Kenny Sembokuya