ALESSANDRO SHIHAN IS DISPERSED IN A RAIN OF ENERGY THAT FALLS ON US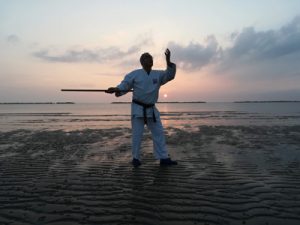 On the of 7th October 2018 the funeral of our dear Maestro Alessandro Tittarelli took place. A silence of pain, recollection and meditation accompanied the funeral. Alessandro, who passed away at the age of 61, left us a huge legacy in technique, in his love, in his style of life, in his smile.
The coffin was brought by of the masters of Aikido, up to the municipal stadium, crowded with people. To greet him were his family members, Kaicho Saito Hitohira and his wife Hisakosama, from Japan, Tristão da Cunha Shihan his fraternal friend from Portugal, masters and friends from all over Italy, Europe and outside Europe, too.
During the Christian Ceremony, the parish priest spoke of Alexander's premature death and the need to find a meaning in thinking about eternal life. "Each of us is strong and fragile, said the priest, we may belong to different faiths but we share the sense of the precariousness of this life, which must shine with love."
Then a moving remembrance of the Mayor of Filottrano, the sisters, the ex-wife Gabriella, the daughters Laura and Francesca, the companion Anna, Sonoko, Tristan sensei and the Friends Danilo di Teodoro and Alberto Boglio, followed by a ceremony with a Shinto ritual celebrated by Master Hitohira Saito.
At the end the coffin came out of the building accompanied by a long and moving applause … a round of applause that will never end!