January -17 –Kagamibiraki
February -1~15 – SENSEI – Philippines Gasshuku and seminar
February -13.14 –Waka Sensei, Torino seminar
March -11.12.13 – SENSEI – Indonesia seminar
March -25.26.27 Mitsuyoshi Saito sensei seminar in São Paulo, Brazil
April -9. 10 – SENSEI-Osaka seminar
April -29 –Taisai
May -27.28.29 – SENSEI -Vladivostok seminar
June -11 -Iwama enbukai
July -? – SENSEI – Philippines Gasshuku
September -23.24.25 -SENSEI – Modena seminar
November -? – SENSEI – Rennes seminar ?
December -3,4 – SENSEI – Murmanskaya
December -11.12 – SENSEI – Nagoya seminar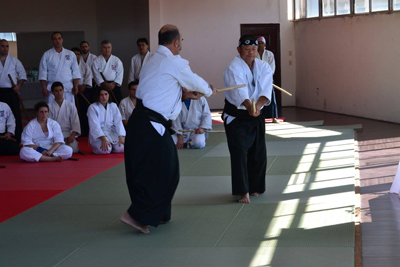 This coming year, 2016, besides the tireless work of our Juku Cho, his sons will start teaching internationally, thus helping his father and the other Iwama Shin Shin Aikishurenkai teachers, to spread O'Sensei's aikido and Morihiro Saito Sensei's teachings.
Yasuhiro Saito, Waka Sensei, will start with a seminar in Torino, Italy, invited by Stefano di Carlo. Waka Sensei has become extremely strong technically and physically.
Mitsuyoshi Saito, the second in line, will teach in São Paulo Brazil, invited by José da Silva and Vinicius Camargo, and his seminar's organization will be overseen by Mario da Silva Sensei from Uruguay. It is a great opportunity for all Latin Americans to learn under the young and powerful Saito.