Philosophy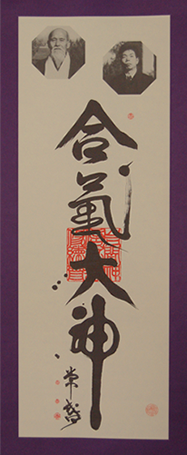 We preserve and share the great influence of my father Morihiro while remaining faithful to the technical and spiritual heritage left by the Founder Morihei Ueshiba.
We continually try to improve ourselves through the intensive and systematic practice of kihon , and we believe each training session is a unique opportunity to feel closer to the Founder. I firstly apply this permanent training to myself.
Hitohiro Saito Iwama Shinshin Aiki Shurenkai.
About Iwama
Organization

Iwama Shin-Shin Aiki Shuren-kai Shin-Shin Aiki-juku

Representative

Hitohiro SAITO

Home Address

26-2 Yoshioka Kasama-shi Ibaragi-ken Japan

Address

53-1 Yoshioka Kasama-shi Ibaragi-ken Japan

Telephone

0299-45-2224(Home)

Fax

0299-45-6056

E-Mail

Training Schedule

7:00-9:00
Morning meditation and bukiwaza (Starting time varies according to season).
19:00-20:00
Evening taijutsu (Thursdays bukiwaza + taijutsu at the Iwama Budokan).
9:00-11:00
Sunday mornings (9:00-9:45 bukiwaza, 10:00-11:00 taijutsu).
There is usually no training on Mondays.

Dojo

Tanrenkan

Admission fee

JPY 5,000

Monthly training fee

JPY 9,000 per month: All evening training sessions and Sunday mornings.
JPY 10,000 per month: morning bukiwaza sessions.
JPY 6,000 per month: Sunday mornings only.

Accomodation

Possible (Validation needed from Dojo Representative)

Uchi-deshi

Contact us for any inquiry related to short stays
More Info.