120 participants joined this fourth international seminar in Rennes. It has been a real pleasure to welcome Sensei and people from many various countries. People from Italy, Germany, Iran, Portugal, Morocco, Belgium, England, Switzerland, United States, Japan and of course France joined this seminar.
The visit of Sensei in Rennes, started on Thursday with a great moment as we meet up with a professional sculptor. Sensei was invited to make a "performance" by sculpting a bloc of clay with a theme of his choice. So that the sculptor and Sensei worked on different bloc of clay with a common theme. Sensei realized for his first experience a beautiful sculpture of a Dragon's head. We all were amazed by how Sensei felt the sense of it and how he gave to the clay the shape of a dragon's head. We shared a great moment.
Seminar started on Friday. Sensei had very kind regards on each one of us and was really involved in making adjustments to people's moves and explaining us the sense of the techniques. He lays the emphasis upon his research on Ô sensei's Aikido and gave many explanations upon how Aikido spread around the world in different ways. He also focuses on the importance to improve ourselves in our daily practice by using different key exercises.
After training, we had on Saturday a user-friendly party with sensei at the dojo.
The atmosphere was really close to an uchi-deshi party in Iwama and thanks to sensei, the represented dojos performed a specific song… So we had a very chilled out atmosphere and we all enjoyed this particular and privileged time.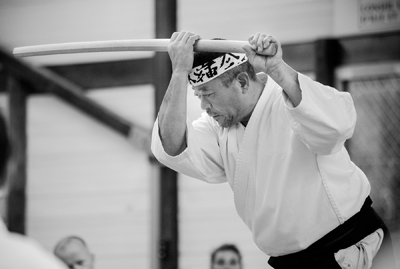 This seminar really reinforced the strong links between the different Dojo and Aïkidoka. SAITO Hitohira sensei really rallied everybody under his incredible Aikido and showed us the importance of being all together to practice and feel such powerful instant. Sensei showed us beyond doubt that Aikido unifies people. During this seminar we felt very close to that old saying of Ô sensei:
"The Art of Peace begins with you. Work on yourself and your appointed task in the Art of Peace. Everyone has a spirit that can be refined, a body that can be trained in some manner, a suitable path to follow. You are here for no other purpose than to realize your inner divinity and manifest your inner enlightenment. Foster peace in your own life and then apply the Art to all that you encounter."
Arigatou gozaimashita, sensei.
Olivier Eberhardt
Rennes – France.