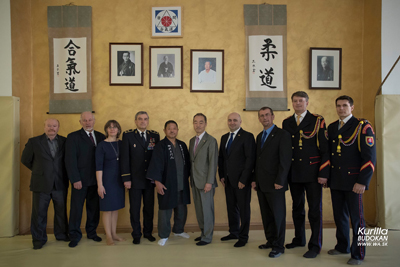 On the 3rd of March 2017 Mr. Saito Hitohira Kaicho, opened the demonstrations of Private Security High School in Bratislava.
The Demonstrations were attended by his Excellency, the Japanese ambassador in Slovak Republic, Mr. Jun Shimmi, General JUDr. Tibor Gaplovksy, Col. Ing. Miroslav Ištván (Guard of Honour Commander of the Slovak president), Col. JUDr. Vladimír Vyskoč – National Antidrug Unit) and many other prominent guests. His Excellency and Saito Sensei were given Private School Plaque of Thankfulness.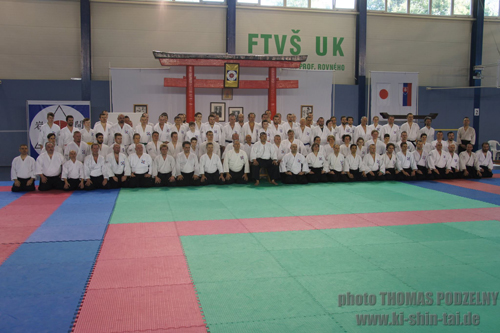 Currently, there are about 250 students in 10 classes. Demonstrations were made by each class separately, which were judged by his Excellency Jun Shimmi a Saito Hitohira Kaicho. The two best classes were appreciated by the triumphal cup and individual students by medals. A pedagogue, the former representing member of judo and teenager club Kurilla Budokan, also attended the demonstrations. Afterwards, Sensei was invited for dinner at the Residency of His Excellency the Japanese Ambassador and spent there couple of hours in a very interesting and pleasant conversation.
The next day, 4th March, started the first day of the seminar, which was attended by 94 participants from 9 countries, Italy, Germany, Austria, UK, Russia, Turkey, Spain, Czech Republic and Slovakia. The atmosphere was excellent and very friendly. Sensei explained a lot of important details.
The Saturday evening was completed by a banquet on the ground of the Private Security High School. Hopefully, all the participants had the same great feeling and experience as we did.
Our great "Thank you" goes to the Sensei for his precious time and patience as well as to all the participants for creating that great atmosphere. We are looking forward to the next seminar under the direction of Sensei in 2019 in Bratislava, which will be the time of the 30th celebration of the foundation of our club.
We are very pleased by the positive feedback of shihan Alessandro Tittarelli, shihan Sergey Botov, Thomas Podzelny, Alexey Obvintesev and many others.
Pictures will probably say more about the atmosphere of the seminar…
Kurilla Budokan Team