For the first time ever in Central America, Hitohira Saito Sensei visited Panama for a 3-day International Seminar from June 23rd to June 25th 2017. Along with Sensei came maestro Tristão DaCunha for assistance during the seminar and to help in translations. It was a great honor for the organization Panama Aikido Dento Iwama Ryu (Asociación Cultural de Aikido y Budo, ACAB) to host this International Seminar with Saito Sensei.
The Seminar took place at the Gym of the Autoridad del Canal de Panamá in Balboa, very close to the entrance of the Panama Canal. A great number of Aikidokas came to the Seminar: Portugal, Chile, Uruguay, Brazil, Colombia, Costa Rica, Dominican Republic, Mexico, Cuba, USA and Panamá (for a total of 11 countries). A great expectation was felt for this event and everyone was excited to received teaching from Saito Sensei!!!
Sensei landed in Panama City on Wednesday June 21st. The next day there was an agenda to visit some places in Panama City. We visited a traditional Indian reserve called Emberá at the border of the Chagres River. Sensei enjoyed this visit and discover this original Indian people which they still preserve their traditional clothes, dances and also they explained how they work handcrafts. Later that same day, we visited Miraflores Locks at the Panama Canal, where we experience the transit of ships through the Canal. Sensei had the opportunity to give the order to open one of the locks for a ship crossing from Atlantic Ocean to the Pacific Ocean.
On Friday June 23rd, the Seminar started. Sensei started talking about the philosophy behind the Aikido Iwama. Explained the correct hanmi position and also the other foot positions we used; and explained the relationship between Taijutsu and Bukijutsu. Two keiko were performed on Bukiwaza study. Sensei explained step by step and with attention to important details on the technique for the Suburi 1 to 7, Happo giri, Go no Awase, Roku no Awase, Sichi no Awase, Kumitachi No. 2 (with 2 variations) and Kumitachi No. 4.
Four keiko were performed on Saturday. During the morning keiko a great emphasis was made on the study of the Jo, including Roku no Jo and their different applications and Roku no Jo Kumijo. Later on the afternoon, Sensei explained details on tai no henko, tai no henko ki no nagare y morote dori kokyu ho. Also we practice techniques for nikkyo, sankyo, kokyu nage, shiho nage and Jo dori.
At the end of the Saturday keiko, it was time for Dan examination.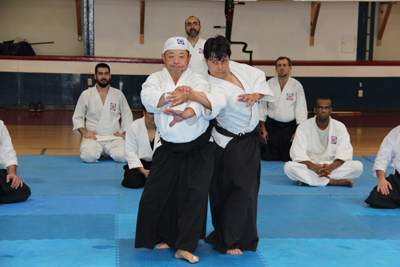 On Saturday night, a Dinner Party was held in honor of Sensei where all the participants were able to greet Sensei, gave presents, talk and spend a pleasant moment, and where a good vibe was felt
between a great Family.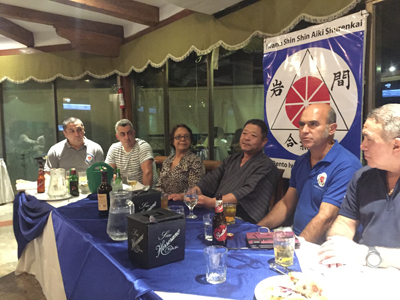 The third day of the Seminar started with the special keiko (ki musbi no tachi and Nukisashi demonstration). Then continued with Taijutsu, emphasizing the tai no henko and morote dori kokyu ho, then Sensei taught different variations of iriminage, kotegaeshi and ni nin dori. Sensei put a lot of emphasis on the intense training that must be done, much work must be done on the correct balance of Shite and Uke's imbalance. Aikido does not stop and you have to continue your study.
It was an honor to have Sensei in Panama, as well as, to have maestro Tristão. Thank you Sensei for all your teachings and leave your legacy of Iwama Aikido in Panama, which is the Aikido of Founder O'Sensei. Panama Aikido Dento Iwama Ryu (Asociación Cultural de Aikido y Budo- ACAB) would like to thank Sensei for his great disposition, humility and for always being open to teach us many details, always based on the premises of the Aikido of O' Sensei. Sensei made a lot of emphasis that we should always look at O' Sensei techniques, always keep training to develop a strong body, studying and improving the technique. Without a doubt and in words of Sensei, the Aikido serves to approach the human beings, we must always continue to be a great Family, in and out of the tatami.
Arigatou gozaimashita Sensei!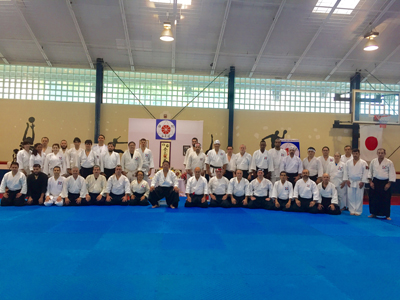 To see more photos, go to Facebook page: facebook.com/Panama Aikido Dento Iwama Ryu
Also, for more photos, click: www.aikidoiwamapanama.com