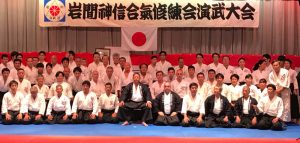 The 12th international Iwama Shin Shin Aikishuren kai demonstration was held at Tomobe on 2019 June 8th. This is the first demonstration of the new Reisei era.
The journey started with an opening with speeches from Saito Hitohira Jukucho and officials representatives from the Kasama city.
Seven dojos from all over Japan, including Iwama Juku, gave their best demonstrations on two themes: ushiro-waza or handachi-waza.
The second part was made of 13 teachers' demonstrations from Japan and oversees (Slovaquia, Russia, Lituania).
Nidaime Morihiro Sensei gave a demonstration based on buki-dori (tachi-dori, jo-dori, juken-dori), while Hitohira Jukucho demonstrated kumi-tachi and henka, kimusubi-no-tachi, as well as a wilde range of taijutsu techniques including ushiro-waza.
Article by Charles Durand.
For more photographs of this important event, please check Iwama Shin Shin Aikishuren-kai Tokyo (Busenkai).