III International Seminar
Hitohira Saito Sensei
Dentou Iwama Ryu Aikido
Iwama Shin Shin Aiki Shurenkai Uruguay
October 2019

On October 4th, 5th and 6th, 2019, Kaicho Hitohira Saito Sensei conducted his 3rd International Seminar of Iwama Shin Shin Aikido in Uruguay, at Hebraica Macabi Club. This Seminar was organized by Montevideo Aiki Shuren Dojo and hosted by Mario Silva Shihan. Everyone was very glad that Tristão da Cunha Shihan came from Portugal to accompany Sensei and do the translation to Spanish.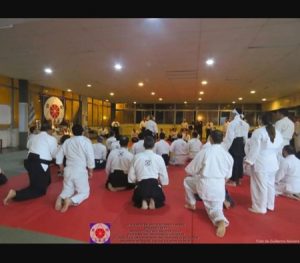 The weather was very pleasant at Montevideo city, cool but sunny. Hebraica Club is by the beach and there is a nice view from inside.
Over 75 people from 8 countries attended to this koshukai. The large mat of Hebraica's club was filled with participants from Argentina, Brazil, Chile, Costa Rica, Dominican Republic, Japan, Panama and Portugal.
The Seminar was held from Friday evening to Sunday noon.
On Friday evening and Saturday morning we had TAI JUTSU. After that, on Saturday afternoon and Sunday morning, we had BUKI WAZA and BUKI DORI.
Sensei was very precise on details and strict with the correct techniques and intension. Everyone was amazed by his accuracy and lightning speed. He was also kind on the corrections a very patient. With his extraordinary didactics, Sensei was able to reach from the highest ranks to people who had been practicing Aikido for just a month.
The program taught by Hitohira Sensei at this koshukai was the following:
Ken no Suburi
Kumitachi e henka
Tai No Henko
Kokyu Ho
Kokyu Nage
Iriminage
Shihonage
31 no Kata and Kumijo
13 no Kata and Kumijo
Tachidori
On Saturday night, we were all invited to the official diner. Many brought spouses and family. The event, perfectly organized by Gustavo Oliveira and Alejandro Monteiro, was held on a very exquisite restaurant by the sea and we had many variations of fried fish and seafood.
We had a lot of fun and had the opportunity to interact with Sensei and Mestre Tristão, as well as with good friends from other countries we only see in Aikido Seminars. Mauro Goyeneche and his lovely girlfriend performed a breathtaking presentation of Opera Music and amazed all of us. After that, more people sang, including Sensei, that not only sung a traditional Japanese folk song but also ex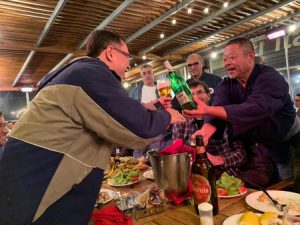 plained us the meaning and feeling of this song. During the meal, Sensei got up from his seat and went pouring drink on each one's glass.
On Sunday morning, Sensei gave a Special Keiko, restricted to yudansha (black belts), where he taught very high skilled Ken Tai Jo techniques and showed each one of them only once. It was a stunning master class.
Andrés Bellini from Argentina was examined for sandan (3r dan) during the entire koshukai and was approved by Sensei.
Our Kaicho also promoted Esteban Hamada, from Tucuman, Argentina, to Godan (5th dan) and Mario Silva Shihan, who is a direct disciple of his father Morihiro Saito Sensei, to Rokudan (6th dan).
At the end of the Seminar, Sensei delivered grading diplomas he brought from Japan to the latest students that got promoted.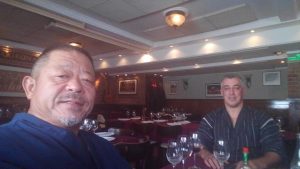 During the Koshukai, Sensei spoke a lot about the correct feeling one must have while practicing BUDO.
At the end of the Seminar, he finished with a speech about the feeling of gratitude one must have toward everything. During keiko, one must be grateful. While eating, one must be grateful. Sensei spoke of being thankful to the earth, to the sun, to the light, to the sky and to the water. Anything one should do related to water (washing, showering, washing dishes, brushing teeth), one must always be grateful. He also spoke a lot about the relation of misogi and keiko.
He was happy and after taking group pictures with participants from each country, Sensei asked if anyone wanted him to write one's name in Japanese on their Keiko Gi. Many people formed a lined and Sensei patiently and happily attended everyone and took pictures with those who asked.
Alessandro Tittarelli Shihan was always present, by the side of Morihiro Saito Sensei at the Kamidama as well as on a small altar at Mario Silva's home, where Sensei was hosted. He was frequently remembered and mentioned.
On Sunday evening, those that were still in Uruguay were invited to an informal gathering at Mario's place and we all had a great time with Sensei as well as with Mestre Tristão. Esteban Hamada prepared his very special "asado" (traditional Argentinean barbecue) to all of us. We ate very well, celebrated together and had a very good time.
We are very grateful to Saito Hitohira Sensei for taking his time and traveling to the other side of the world to teach us. We will work harder and give our best in order to try to learn and improve.
Many thanks to Tristão da Cunha Shihan, who left Aiki-En and came from Portugal to help us attend Sensei and did the Translation to Spanish.
Thanks also to the Silva brothers, to Mario's fantastic family and to the Uruguayan deshi for making this seminar become possible and inviting us to learn from Hitohira Saito Sensei in Uruguay once more.
We are very grateful!
Sensei, Domo Arigatou Gozaimashita!